Shortly after our first Community Eye Candy post, a thread popped up in For the Love of Ravelry where Ravelers shared their ideas for themes. Today, we wanted to use a suggestion we loved – it was brought up by karinaida and chaenorrhinum and seconded by several more users. (Thanks for the idea!) Here is a small sampling of projects that Ravelers have made without using patterns; everything featured here was marked as finished at some point this month.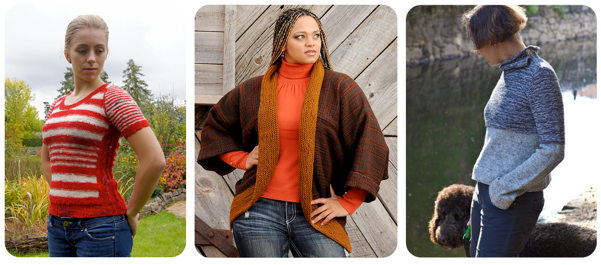 From left to right above, we have troldefoder's Summer Top 2013 (made in her handspun), mtliongrammy's absolutely stunning hand knit and handwoven jacket, and IrinaMS's lovely and cozy Number One.

Above: ceylangul's Fireworks socks (another handspun project), foldi's chic little cabled tube scarf, and kendrick43's wonderfully creative seashell weavings.

Finally, we have Snowdrop83's Pink Winged Pikmin (made for her son and daughter), Knea's beautiful Sydänsukat , and BettyAnnie's cheerful and cozy Petal Scarf.
These gorgeous projects are just a small sampling of the wonderful things Ravelers create without the use of patterns. To see more stunning projects not connected to published patterns, check out this advanced search for such projects, sorted by "best match." You'll be blown away!