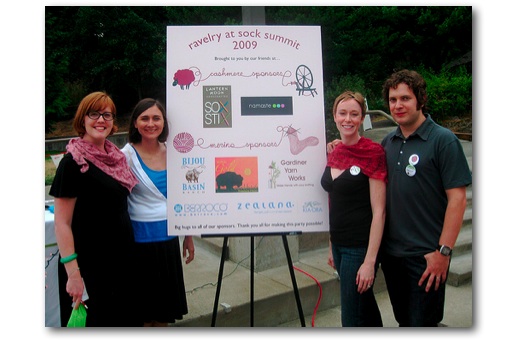 We have been recovering all week from the absolutely amazing time that we had last week in Portland at Sock Summit. Our expectations for this trip were high – how could they not be? Incredible teachers and classes, fun events (including our own Ravelry party!), and a gathering of yarn-lovers in a huge marketplace. Each and every aspect of the event was better than we could have hoped. On the very first day, we noticed something a little funny about all the attendees, including us: everyone was walking around with a big goofy grin! It was clear that we knew we were a part of something special and we were all feeling so grateful to be a part of it.
The Ravelry Party on Saturday night was loads of fun. Between 600 and 650 Ravelers came out to the World Forestry Center in Portland and had an incredible time, thanks to our wonderful party sponsors Lantern Moon's Sox Stix and Namaste (Cashmere Sponsors), and Berroco, Bijou Basin Ranch, Buffalo Gold, Gardiner Yarn Works, and Zealana (Merino sponsors). Thank you so much for your generosity – we hope that those of you who were able to attend had a great time looking around at all the smiles you helped to create – we could not have done this without you! :) Thanks also to the volunteers who came early to help set up the party and stayed late to help break it down (and to ConvolutedString Lisa, the hard-working volunteer coordinator for Sock Summit, who generously helped to round up the awesome crew)! Your cheerful work made it possible for us to have time to eat before the party (a minor miracle) and go to bed at a decent hour afterward (a major one). Thank you! The kindness and generosity of our community is really overwhelming sometimes.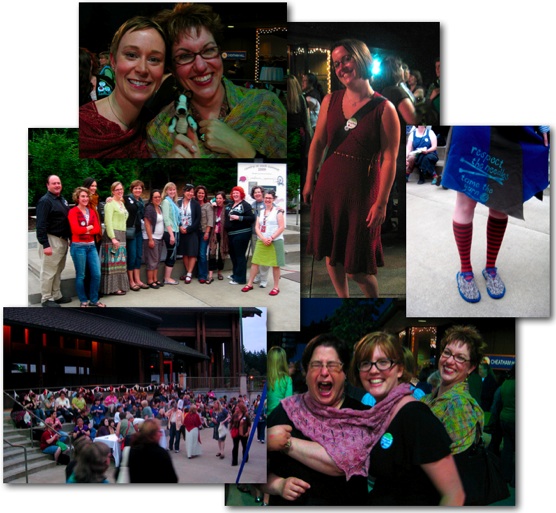 That community spirit was at the forefront of the entire Sock Summit weekend. I think that anyone who was there would agree: the energy was palpable. There were many happy tears and full hearts – Sock Summit was so big, and yet it felt so intimate and special. The Sock Summit team (Tina Newton, Stephanie Pearl-McPhee, Cat Bordhi, Debbi Stone, Rachel Harvey, Debra McVae, and JoAnn D.) poured their hearts into the creation and execution of the event, and we all appreciate every moment! (And… ahem… hope for another! Too soon to mention that?)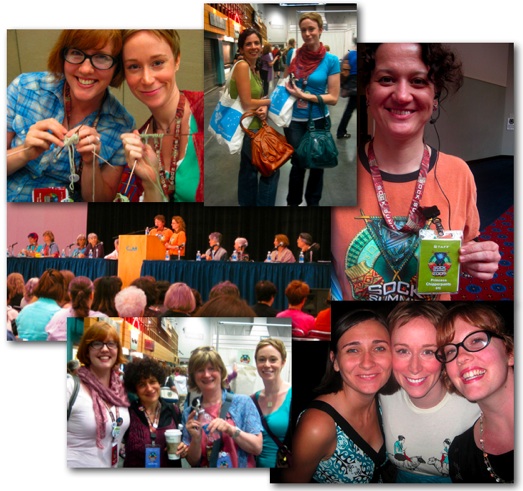 Here in our Team Chatroom at Ravelry, we can't get over just how inspired we are – not only with regards to our craft (such amazing classes, projects, and yarn all around!) but especially when it comes to our community and the wonderful people at the heart of it all. Jess and I were lucky enough to attend classes and lectures by the amazing Nancy Bush, Priscilla Gibson-Roberts, Heather Ordover, Barbara Walker, and Anna Zilboorg, and each gave us new skills as well as a deepened appreciation of the history and meaning of our craft. We are so thankful to them for sharing a bit of themselves with us and with everyone else there. Though we were too shy to pose for pictures with all the teachers, when we went to Barbara Walker's lecture and saw that she was graciously posing for photos with her (many) fans, we looked at each other and said "we'll really regret it if we don't ask!" She is an incredible woman and was kind enough to say "yes" and take her picture with us. You can see that we are both a little teary and amazed at that moment… that happened a lot!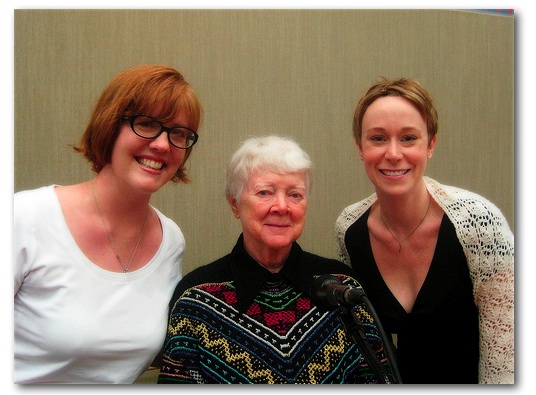 I might have to frame that one.
For more pictures from me or Jess, check out our Flickr sets (MH's Sock Summit set, Jess' Sock Summit set)! You can also browse the photo pools on Flickr: Sock Summit 2009 (for all photos) and Ravelry Events (for Ravelry Event-related photos). If you're on Flickr and attended Sock Summit and/or the Ravelry party, please add your photos to the pool! We know that we aren't alone in our feeling that we're going to carry our Sock Summit experience with us forever: Casey set up a special part of Ravelry for Sock Summit Memories – all Ravelers can read blog posts and tweets related to Sock Summit, and a common phrases seem to be wow, fantastic, incredible, inspirational, fun, and of course: we hope there's another!
Thanks again to the Sock Summit team, all the teachers and vendors, our fabulous party sponsors, and to everyone who came up to us and said hello or gave us a hug (or both)! You were all a part of a weekend that we will never forget. To Socks!
update: I forgot the cardinal rule of wearing handknits on the Ravelry blog – they must be linked! :) In several pictures, I am wearing Entomology by Laura Nelkin (the light pink beaded shawl), and Jess is wearing her Ishbel by Ysolda Teague (deep pink lace). In the bottom picture, Jess is wearing her wedding shawl, the Flower Basket Shawl by Evelyn A. Clark. :)