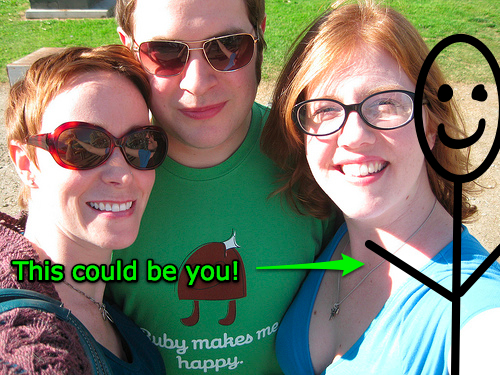 Hi Ravelry! Erica the Email Fairy is moving on, and Ravelry is looking for a new team member! This is a part-time (~20 hours per week), work-at-home position with flexible hours, and a definite possibility of growth with the company over time. :) We are looking for someone tech-savvy, friendly, and positive who is very familiar with the Ravelry site and community.
essential responsibilities include:
– Provide the first line of helpful support to all emails coming in via our contact-us page, the shopping@ravelry.com, and the advertising@ravelry.com email addresses (and alerting the rest of the staff to potentially important issues that come in). Topics in these emails can cover anything under the sun – designer/yarnie issues, confidential forum issues, happy people, Ravelry mini-mart questions, advertiser help, and more!
– Hook up designers, yarnies, and design teams with their Ravelry profiles and answering basic questions or directing to helpful on-Ravelry resources as needed.
– Assist users with Ravelry invitation issues.
– Provide help as needed on the Ravelry "work" forums: For the Love of Ravelry, Help!, Ravelry Shopkeepers, Ravelry Editors, Advertisers' Caboodle.
– Assist Jess and Mary-Heather with ad approvals (image feedback, checking groups for competitors, etc.).
– Must be familiar with Ravelry's site, vision, and tone!
– Must be able to stay motivated, level-headed, and work both independently as a self-starter on your own tasks, and as a part of our tightly-knit (har) team.
– Ownership of cute dog not required.
To apply for this position:
Please email jobs@ravelry.com with your resume and an email telling us more about your experience and why you are interested in the job. Please include your Ravelry username! We will need to receive it by Friday, March 27. You don't need to write a formal cover letter… heck, you can make a video, upload it to the internet somewhere, and send us the link. :) Whatever works!
We do have some questions we would like you to answer:
1) Why do you want to work for Ravelry?
2) What qualities, technical experience (computer and crafty!) and skills could you bring to our little team?
3) If you were a yarn-producing fiber, what would you be and why?
Go Team Rav!
p.s. if you have questions about this position, please email jobs@ravelry.com. Thank you! :)
Updated Monday, March 23 – Frequently Asked Questions!
Can you apply for this position if you live outside of the United States?
– Sure! International applicants – please go ahead and apply, and thank you for your interest! We are checking out all the labor law and employment tax details we would need when it comes to hiring a non-US-based person, but we are open to the possibility! :)
How old do you have to be?
– You must be 18 years old to apply.
What do you mean by "tech-savvy?"
– You don't need to be a computer programmer to apply by any means – Casey does all the code here. :) You should be very familiar with Ravelry and the way the site works; we will help get you up to speed, of course, but familiarity with The List, the Ravelry wiki, our Community Guidelines, and how to "work" the technical things on the site (uploading photos, linking blog posts, etc.) is important. You should be very internet-savvy in general. The customer support emails are handled through a web-based email system, and you will often be helping users with very limited computer experience with a very wide variety of tasks, so proficiency with basic computer tasks (in both Mac and PC operating systems) is needed.
Is this position paid?
– Yes! This position is paid an hourly wage and requires about 20 hours a week. Pay is competitive with customer service and administrative jobs in the Boston area.