Today we are sending you all some love and hearts – Happy Valentine's Day! Here are some recently completed Valentines-y projects.

ehalf's Kierki Hat looks like it was made with love!
Above, kmspillman's Heart Coaster or Mini Doily, bevans59's heart, and mmhiscox's I Heart U.
Here are mzcurran's Heart and Flower Bunting, mvckr's Woolly Kiss for DH, and delighted40's Valentine's Day Wreath.
Fun reminder: we have Valentine's Day Ravelry cards available for sending again this year!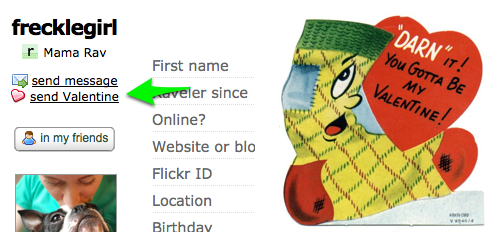 To send a Valentine, just go to the Ravelry profile of the person to whom you want to send it, and click on the special send Valentine link you'll see just under the regular send message link. (If the Raveler has Ravelry messages disabled, you won't see either of these options.) Once you click on the send Valentine link you'll get to choose from among several cute vintage Valentines. Type in your own note if you want, and send your friend some love! These are available for the rest of the day – we hope you enjoy!