This Saturday is Valentine's Day, which means it's time for one of my favorite Ravelry traditions: sending vintage Valentines through Ravelry messages!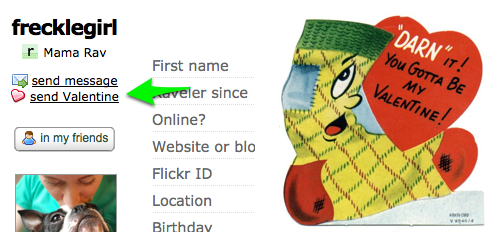 To send a Valentine, just go to the Ravelry profile of the person to whom you want to send it, and click on the special send Valentine link you'll see just under the regular send message link. (If the Raveler has Ravelry messages disabled, you won't see either of these options.) Once you click on the send Valentine link you'll get to choose from among several cute vintage Valentines. Type in your own note if you want, and send your friend some love!
The Valentines will be available from late night (Eastern time) on Friday the 13th, through Valentine's Day. We hope you have fun with these – yay for sending some love!
p.s. we

you, Ravelers!