I knit lots of different sorts of things, but my favorite thing to knit is sweaters.  If I'm looking for a sweater to knit right away, I can use the advanced search filters to narrow down results to those that meet my criteria.  To save time, I've saved this search so I can run it whenever I am in the mood for a new sweater.  The option to save a search is in the top left of the search screen.  And as of this week, there is the option to subscribe to a saved search.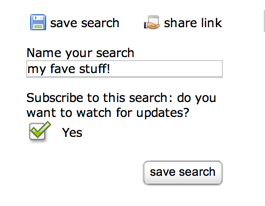 If you choose to subscribe to a search, you'll be notified of new results that meet your criteria.  Click the magnifying glass in the navigation, and in your list of saved searches you'll see a notice of any with new items.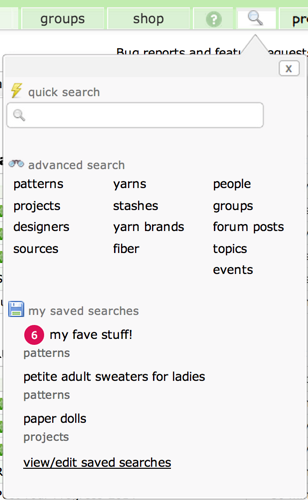 After clicking that link you go to that saved search and we help you find the new items.
This feature is brand new, so if you find bugs or have ideas about how to take advantage of it let us know in For the Love of Ravelry.