For our tip today, we wanted to introduce you to our new and improved Help tab! You can find the help tab by clicking on the ? tab at the top of the page, or the word "help" at the bottom of the page. This tab is a home base for our help information and resources and is a great place to look if you have any questions about Ravelry!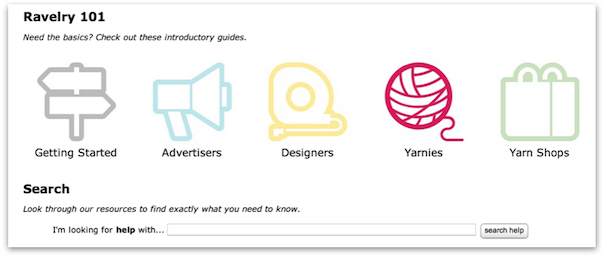 On the Help tab, we have a great variety of resources for you – whether you are brand new to Ravelry or a seasoned user. At the top of the page you'll find pretty images which link to Quick Start Guides for Ravelry users, Advertisers, Designers, Yarnies (on Ravelry, a Yarnie is a yarn dyer or yarn company), and Yarn Shops. Just underneath those images, you'll see a search field which lets you search all our help resources. Type in your question for speedy answers! The search field will bring you answers from a variety of helpful resources on Ravelry including these Thursday Tips blog posts!

Keep scrolling and you'll see a list of FAQs and handy links to our guided tips. The new FAQs here are shorter, more digestable help than the wiki pages, making it easier to find the information you need quickly.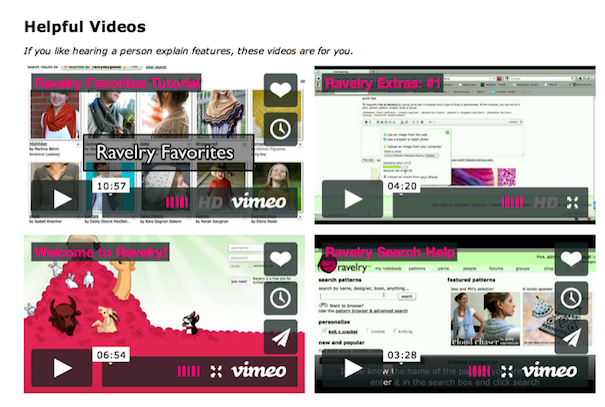 At the bottom of the page you'll find our help videos and tutorials, and finally, links to other help resources like the Help group, Help chat, and a way to email us for assistance if the resources on the Help tab didn't contain the answer you were looking for.
Christina and Sarah revamped this page by looking into data about the type of questions people ask, via email and elsewhere, and also into the links people click to try to get answers to their questions, and we'll continue to look at this information to keep improving the Help tab search results, FAQs, and guides. We hope these changes are useful to you – we're excited to have an easy way to find all our help resources in one organized place!