'Tis the season for shopping…well, shopping for others anyway, but that doesn't keep me from doing a bit of shopping for myself along the way. I tend to go through the forums pretty quickly and there have been many times when I've clicked to read the next page only to realize that I really wanted to check out that pretty ad from the previous page. You can!
To do this, put your mouse over the ad space and click "previous ad".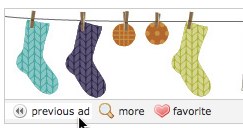 Then, the previous ad will appear for you in that space so you can click on it and check it out! You can also choose "more" to see all of the ads of that type or if you are in a forum or group, it will show you all of the ads being run in that forum or group.
If you can't buy something for yourself right now, but you don't want to lose track of the ad, you can click "add to faves". Then, you will see "in faves" in that spot.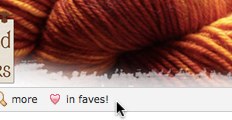 Then, go to your notebook tab and click "favorites" and you will see all of your clipped ads in the favorites menu there.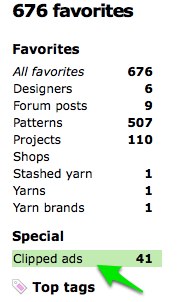 These tips also work for the ads that you see in your notebook! Hopefully, these tips will help make sure you don't lose track of that yarn, fiber or notion that you want to buy again!