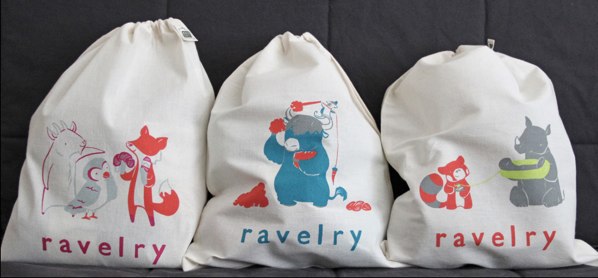 We are really excited to reveal a project that has been in the works for a while now, a new project bag series! We discovered Eloise (worksweet on Ravelry) and her awesome artwork when she was a finalist in the Ravelry Project Bag Design Contest. We loved her little animals and knew we wanted to have them on something in the future, and now they are here!
The Eloise Draws Project Bags include three different designs – Yarn Decisions, Drop Spindle and Winding, each featuring whimsical animals and yarn! The bright colors and adorable cast of characters are a perfect combination. You can pick up each one individually, or get a discount when you buy all three together. The discount is automatically added when you make your purchase. Collect them yourself and pick some up as gifts for your fellow fiber lovers!
While you're in the Mini-Mart, don't forget to check out all of our other great gift options! From Soak for washing handmade gifts (or giving along with them) to Ravelry themed items like buttons & nail polish we have a lot of great items that will allow you to support Ravelry and give a great gift. We even have notecards and knitting or crochet gift tags (that have washing instructions on the back) that you can include with your gifts. Remember, anyone can purchase items from the Mini-Mart, not just Ravelry members, so you can add links to Ravelry items to your holiday or birthday wish lists, too!