The stash area is a great way to keep track of the yarn in your yarn closet. To get your stash, click on the notebook tab and choose stash. There are a lot of handy features to help you use the yarn that you have.
One feature is the filter option. You can do this at the top of your stash area by clicking the "filter your stash" drop down. Then, you can easily filter by weight. This is particularly helpful if you find a pattern you like and are looking for yarn to match with it. If you are looking for various weights of yarn, you can choose more than one weight.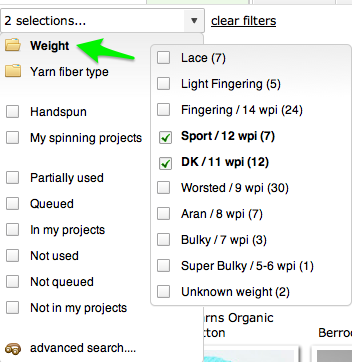 You can also sort by fiber types and other attributes. Additionally, you can click advanced search at the bottom of the drop down for even more stash searching options. Once you find what you are looking for, you can use the location field in the stash entry to figure out where you've stored it. Happy stash hunting!