I often get asked how someone can know what a pattern will cost in their currency when it is listed in a different one. You can automatically see the price of a pattern in your currency if you set your location in your profile. To set your location, go to your profile page and click "edit your profile" then enter your location there. You can select only your country for currency purposes, but then you miss out on some other location benefits mentioned below. If you are uncomfortable listing your exact city or town, you can enter another nearby city.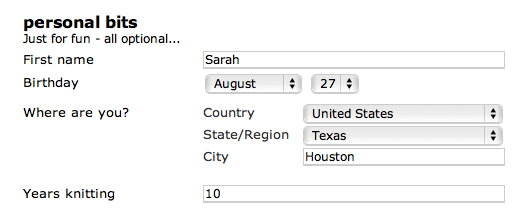 Then, when you go to a pattern page that lists the pattern price in a different currency, you will see the price in your currency listed just below the list price of the pattern.

There are other benefits to setting your location, like being able to easily search for nearby yarn shops and groups and to see local yarn shop advertisements for your area on yarn pages. It's just one little field on your profile page, but it has a lot of added benefits.