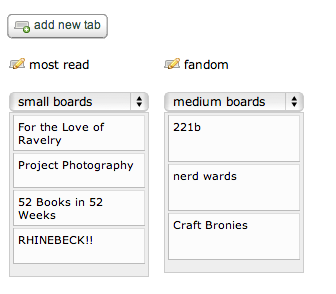 Have you joined so many groups that your forums tab is miles long?
Christina recently added a new feature to groups – when you join a group, you can choose to place it on a tab within your forums. That way, you can split your groups into different tabs for easier browsing.
What about rearranging what you already have? You can either click the

icon on any board on your forums tab to move it to a new spot OR you can go to your settings tab and make changes there (shown here)
One more handy thing – on the settings tab, you can change the size of your boards. They default to a really compact view but I like setting mine to "medium" so that they show 10 topics each.