Life around here recently has revolved around getting my first grader ready to go back to school, so when thinking about some community eye candy to feature, it was the first thing to come to mind.
First up, an apple for the teacher.

From left to right, we have kathinka14a's Apple to go, iammine's Chroma Apple Cosies, juliebie's Apple for the Teacher and medorasmit's how ya like them apples.
The other thing that I found when looking for back to school items, were pencil accessories. There are so many creative ways to embellish a basic pencil!

From left to right here are punnikIlse's boeket bloem-potloden, lym81's Spike the Snake, jostrong's pencil warmers and kattarina's Pencil Doll.
And, you need a great place to put all of those cute pencils.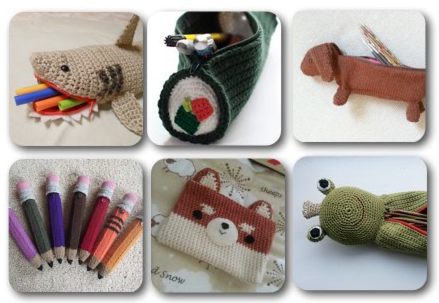 From left to right, starting with the top row we have yarnstarved's Shark Pencil Case, Ninja-Suse's Federmappe "Sushi-Rolle", and Patsy55's Dachsie Pencil Case. On the bottom row are KatieChameleon's A Plethora of Pencil Case, Frostkit's Shiba Inu Pencil Case and astas' Freysi froskur.
Whether you are in the midst of the back to school season as a student or loved one, or if like many of us, you just enjoy school supplies, I hope these projects provide a bit of inspiration.