June was a busy month for the Ravelry staff! In addition to our regular work on the site during June, we participated in two big events – the Squam Art Workshops (SAW) and the TNNA Summer Trade Show.
Squam Art Workshops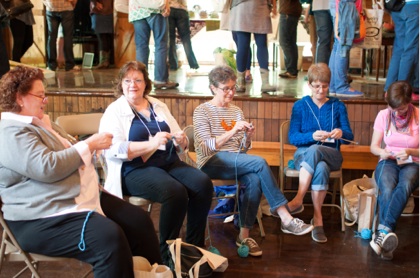 Jess and Casey spend the weekend in New Hampshire, enjoying all the inspiration SAW had to offer. The Ravelry Revelry on Saturday evening was full of happy, creative people – thank you so much to everyone who attended! It was great fun to meet you all. Special thanks to the Ravelry Revelry sponsors who made the event possible:
Qiviut Sponsor
Knitspot
Cashmere Sponsors
Classic Elite Yarns
Kelbourne Woolens
Lupine Blossoms
Merino Sponsors
Brooklyn Tweed
Green Mountain Spinnery
Journey Wheel
STC Craft
WEBS
The Woolen Rabbit
TNNA
We always appreciate the chance to connect with other people in the yarn industry at the TNNA trade show. For this show, we wanted to focus on connecting with local yarn store (LYS) owners and staff. We taught two classes for LYSs: Ravelry Basics and Ravelry Pro for Local Yarn Stores. Both classes started at 8:00 am, but despite the early hour, we were lucky to have classroooms full of eager shop owners and staff members! It was a real pleasure to get to speak with such nice groups of attendees.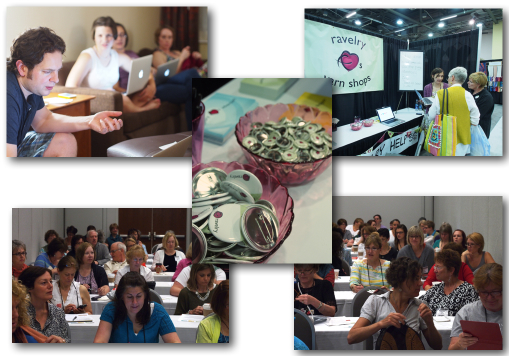 In addition to our classes, we ran a Ravelry Help Booth. Our goal for the booth was simply to be available for any TNNA attendees with questions about how to use Ravelry. Over the course of the weekend, we were able to hear from so many shops, designers, publishers, and yarn companies, and offer assistance, get feedback, and hear about how people in every aspect of the yarn industry are using Ravelry to connect with their customers and help their businesses grow. We really appreciated all the friendly faces at our booth and in our classroom and came away from the show inspired and motivated.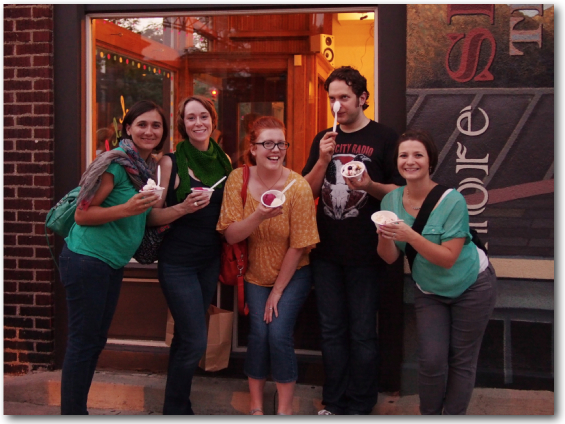 As busy as TNNA was, we were also pleased to have time for plenty of Jeni's Ice Creams – the most delicious Columbus TNNA tradition ever. Thank you so much to everyone who helped to make the weekend so productive and fun!