2012 was a big year for Ravelry. We celebrated 5 years of Ravelry with you all, passed 2 million members (and we just keep growing!), we welcomed our 5th staff member, Christina the Enhance-o-Tron, and much much more! We wanted to look back over the past year with you all and share some highlights.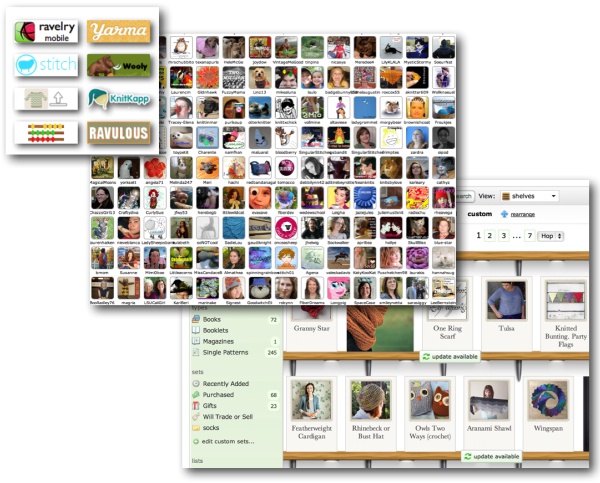 January, February, and March

Casey opened up the Ravelry API for developers, who got busy right away making cool apps to work with Ravelry! You can see a mid-year round up of apps in this blog post. The Ravelry team traveled to Phoenix, AZ, for The National Needlework Association's winter trade show.
Ravelry hit 2 million users on February 29 – a huge milestone! (To think that before Ravelry began, Jess and Casey hoped that one day they might get 1,000 people interested in signing up.) Though the site has grown beyond anyone's wildest dreams, it's still a friendly and welcoming community, thanks to all of you fabulous Ravelers.
Our brand-new, feature-packed library was rolled out with a handy guided tour and a fun book giveaway. More guided tips for Ravelry features were added throughout the year, and we currently have guides for the Ravelry library, the yarn database, tips for sifting through projects, and the "remember and compare" feature available with the Ravelry advanced search. If you have a few minutes to spare and would like to learn more about any of these features, take a moment to check them out!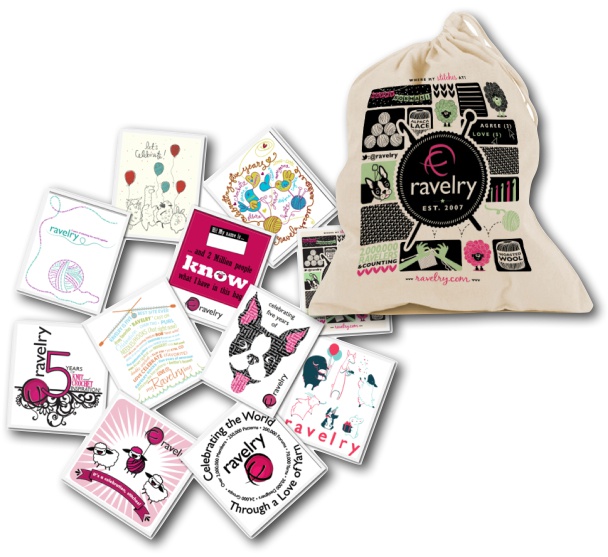 April, May, and June

Sarah and Mary-Heather spoke – and shopped ;) – at the DFW Fiber Fest. Bobmas, the anniversary of the first time Jess and Casey shared their idea for Ravelry with the world, is celebrated each April 7. We came up with a fun idea to share the revelry: a Project Bag Design Contest! Ravelers around the world submitted their designs, all focused on the theme "A Ravelry Celebration."
Voting for the Design Contest took two rounds, in which 117,056 votes were cast, and Ravelers selected the fun design by Elloknits, which perfectly celebrates 5 years of Ravelry joy. This design is still a popular item in the Ravelry minimart!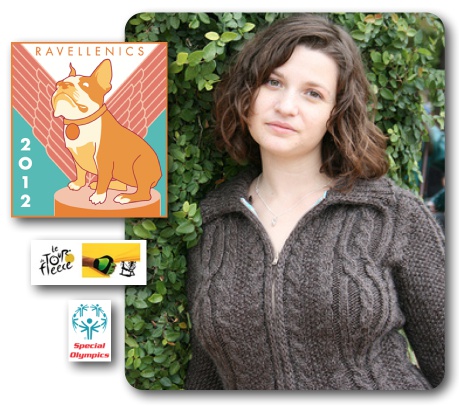 July, August, and September

The Tour de Fleece, a group-centered Ravelry event in which spinners challenge themselves to spin along with the Tour de France race, began on June 27th but the bulk of the spinning took place in July. During the 2012 Tour de Fleece, Ravelers spun 115,000 oz / 3,260,195 g of fiber – that's 7,200 lbs / 3,260 kg, or as much weight as a large adult hippopotamus!
Our largest community craft-along to date, the Ravellenic Games, began in tandem with the Olympic games on July 27. We had 10,000 participants representing 66 countries, who brought 55,000 projects across the finish line. Fantastic! After the Ravellenic Games, many participants purchased a limited-edition commemorative pin designed by octagonfudge Guin. 100% of the profits for this pin were donated to the Special Olympics; the final donation came to $11,300. Absolutely amazing, Ravelers!
We welcomed oharethey Christina, who joined Ravelry's staff as our 5th team member and 2nd developer! Christina has been working hard since she arrived, and has been especially focused on improvements to the administrative areas of Ravelry, which help us all do our jobs better and faster.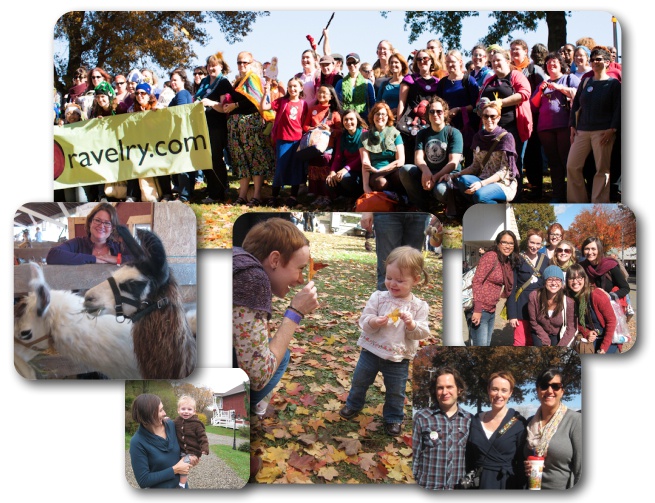 October, November, and December

October brought the Ravelry staff's annual trip to the New York Sheep and Wool Festival in Rhinebeck. The meetups are always such a fun way to connect with users! Casey and Christina also traveled to Denver for RubyConf. The whole Ravelry team kept busy with assisting Ravelers and adding new features, including a customized pattern viewing history page, and a way to link projects you made for other Ravelers to that user's profile.
Ravelry users were busy as well! From October – December 2012, Ravelers began an average of 3,900 projects each DAY. While Ravelry's membership grew steadily all year (we ended the year with 2.74 million users, 3,800 of whom joined on New Year's Eve!) the site still feels small in many ways, thanks to the bonds within our wonderful, helpful community. In the last three months of 2012 alone, 33,000 new friendships were added on Ravelry, and 5,000 projects were marked as "made for" other Ravelers.

Want some more fun stats from throughout 2012?

1,114,909 patterns were sold on Ravelry, resulting in $6,177,399.87 in sales! (Did you know that over 98% of that money is paid to the designers?)
The Ravelry In-Store Sales program continued to grow, and we now have 553 shops participating globally. In 2012, over 18,000 patterns were sold as Ravelry In-Store Pattern Sales!
Ravelers stashed 500,928 miles / 806,165 kilometers of yarn last year – that's enough to go around the world TWENTY times!
77,680 new patterns were added to the Ravelry database. The most popular day to create a pattern in 2012 was March 23: 348 patterns were added to Ravelry on that day.
1.85 million projects were created, and 1.37 million projects were finished.
Ravelers made 23 million forum posts, and shared a lot of love – 38.7 million love button clicks were made in 2012!
And behind the scenes (some snippets of our jobs at Ravelry):

Sarah assisted 13,465 different Ravelers who wrote for help.
Mary-Heather reviewed and approved 10,000 ads.
Casey and Christina released new site updates 471 times.
Bob took 1,500 naps.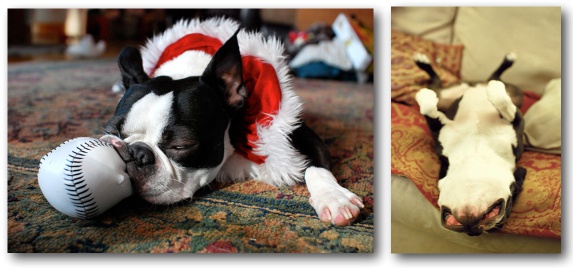 We're so grateful to you all for being a part of Ravelry in 2012. Thank you to everyone who clicked a love button, uploaded a project, introduced a new person to the site, searched for a perfect pattern, supported a Ravelry advertiser, stashed some yarn, bought some merch from the Ravelry minimart, asked for help or assisted another Raveler with a question, arranged a meetup with a Ravelry friend… the list of Ravelry activities, both on and off the site, could go on and on!
All of us on the Ravelry staff hope that you are having a wonderful start to 2013. Here's to many more years of Ravelry!