We have a hunch that lots of you have been making gifts for the holidays lately. (Fun fact: last year, Ravelers made about 9,800 projects marked for "mom" or "dad" in November and December alone!) If your hands have been busy making things for other Ravelry members, we have a new feature, recently built by Christina, that we think you will love: you can now link your Ravelry projects to the Ravelers for whom they were made!
Linking your projects to Ravelers is easy: when you are editing your project, you'll see a new field up at the top, where you can add the Ravelry username. As you begin to type the username, possible Ravelers will appear for you to select: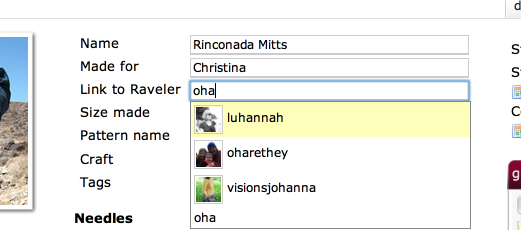 After you've selected the correct Ravelry user, just save your project and his or her Ravelry username and profile picture will appear in the "made for" field for your project!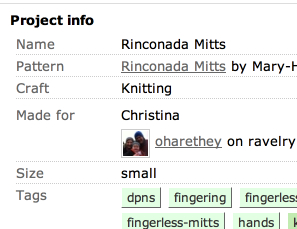 This will be visible to anyone who looks at your project page, but linking up a Raveler does not send the user you made the item for any sort of message or notification, so it's possible to be a little sneaky (of course, if you really want to be sure the recipient will be surprised, it's a good idea to wait until after they've received the gift to link up their Ravelry profile).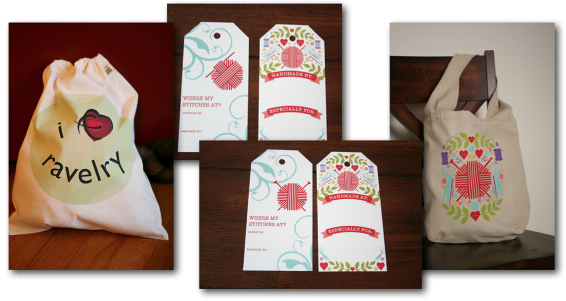 While you're busy making gifts, don't forget we have our Ravelry & Knitterella Notions gift tags, in both knitting and crochet versions – and a matching sling tote and notecards! We also just added a cute new "I Heart Ravelry" project bag to the minimart – a fun gift for anyone who wants to show off their Ravelry love.
We hope that you are all enjoying a wonderful end to 2012! Getting to work with Ravelry community and build this site feels like a gift to us every day. Thanks for being so wonderful, Ravelers!