'Tis the season when people begin asking you what's on your wish list and you start looking for (or creating) that perfect gift for people in your life. Whether you're gift giving this season, or just looking for a little something for yourself, we have some great new products in the mini-mart for you!
We are pleased to announce that we've partnered with Jill, the very talented designer behind Knitterella, and she's created some products just for us! First up are gift tags, which are specially created with handmade gift giving in mind. We have two sets, one for knitted gifts and one for crocheted gifts, each with 3 knit or crochet tags and 3 notions tags. They have the care instructions on the back, so they are a great way to adorn your gift with something nice while also giving the recipient the information they need to care for it.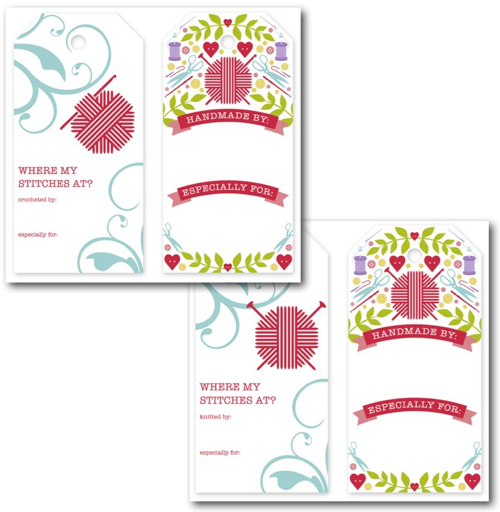 We love the notions design so much that we also incorporated it into two other products: notecards and a tote bag! The notecards come 3 to a set and are perfect for sending along with a handmade gift, or including in a swap package with a fellow crafter. The sling-style tote bag is a great size for carrying your project along with you and would also make a great gift.

There are a lot of other great products in the mini-mart, as well. The design contest bags are in stock and we have coffee mugs, logo tote bags, and many other items to choose from.

People can buy from the mini-mart even if they aren't a member of Ravelry, so if you see something you like, make sure you let those who may be buying for you know!