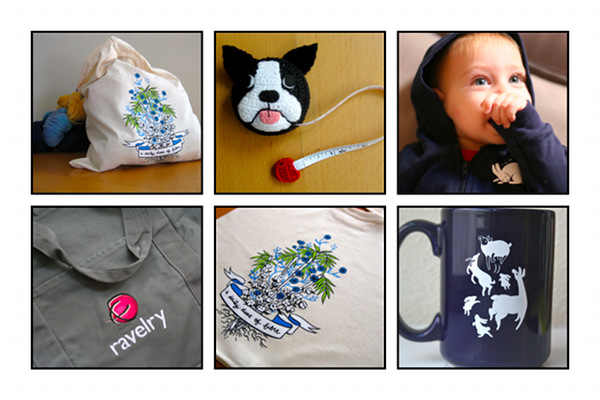 You may have noticed that we have lots of new things for sale in our Mini-Mart, some of which are featured above. The Mini-Mart is a great way to support Ravelry while purchasing project bags, tote bags, t-shirts and other items. We don't usually post every time we add new inventory to the store, but there are ways to make sure you don't miss anything!
First off, we have a Mini-Mart Chatter group where you can give us feedback on what you'd like to see become available in the store. We may not be able to make everything that is requested, but we definitely use information that we get from folks in that group in creating new products. Within that group there is also a thread where we announce anything that is added to the store. You could watch that thread or, if you use a feed reader, you can subscribe to that thread's RSS feed for updates, as well.
If you like something that we have but notice that it's out of stock, we have a handy "notify me" check box on each product page that you can check and you will receive a Ravelry message when it comes back in stock.

When you click the box you will see that little checkmark which indicates that you will be notified when it comes back in stock. Right now the out of stock item in biggest demand is the Design Contest Project bag. We will have more of those in stock this month and will notify you when they are in stock if you have clicked the notify button on that page.
In the coming months, we will be updating the store with new inventory more regularly and discontinuing more items that we had previously stocked. Make sure you pick up some of your old favorites before they are gone (all discontinued designs are 30% off) and check out the new things we have available!