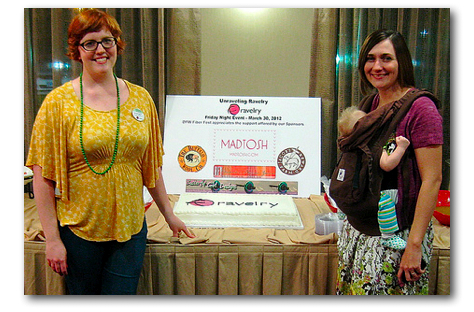 Sarah and I had such a great time at the DFW Fiber Fest in Grapevine, Texas this past weekend! It was a quick trip and packed full of fun. Our first festival event (after checking out the marketplace) was our "Unraveling Ravelry" presentation on Friday night. We shared details about the history of Ravelry and how it grew into a business with a staff of four (plus Bob) and over 2 million members, and then gave some tips and tricks on how to use the site. It's always our goal with these talks to share details that won't overwhelm newer Ravelers, while also showing longtime regular users some features they may not have seen or tried yet. We also talked a bit about some upcoming Ravelry features (yes, the mobile site!) and answered some questions from the audience.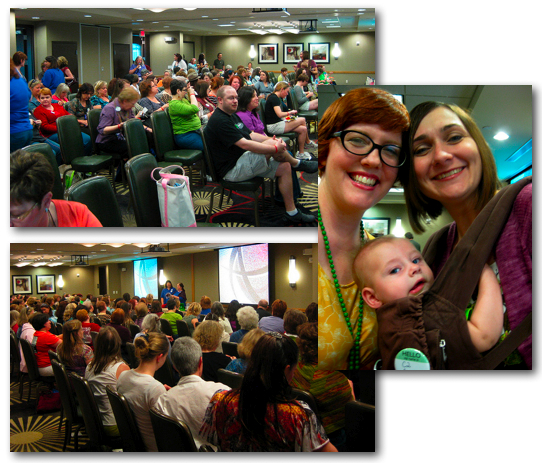 After the presentation was done, we had cake! HUGE thanks to everyone who came to our talk – your friendly faces were so encouraging! Special thanks also to the evening's sponsors, who helped the DFW Fiber Fest bring us out to Texas: Brooks Farm Yarn, The Buffalo Wool Co., Butterfly Girl Designs, Jacob's Reward Farm, and MadTosh!
On Saturday, we had more time to check out the vendors in the marketplace, and what a great show floor it was! You can guess from the list of vendors that there were lots of beautiful yarns, fibers, tools, bags, etc., and we couldn't resist bringing home a few goodies. ;) At noon, we hosted a meetup in the Stitching Lounge (which could have easily been named the Spinning Lounge – there were so many spinners hanging out!). It's always a joy to meet Ravelers in real life, and see folks who have been Ravelry friends for a long time (sometimes years) meet each other in person for the first time, and this event was no exception.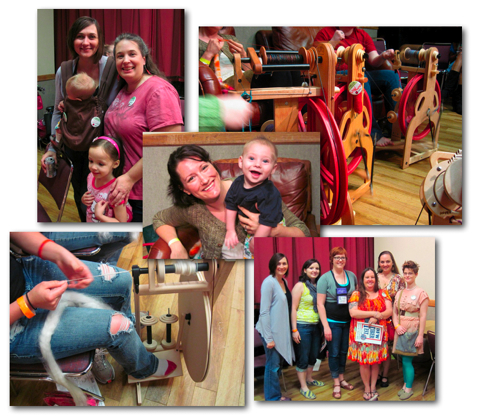 This is a local/regional event for both of us (since Sarah lives in Texas, and I live in New Mexico) and we've wanted to attend since we first heard of the festival a few years ago. We're so happy to have had the chance to go – it's a fun, well-organized event with great vendors and teachers and loads of friendly attendees!
Thanks so much for hosting us, DFW Fiber Fest! If you'd like to stay posted on next year's event, check out the DFW Fiber Fest Ravelry group.