Adding someone to your Ravelry friends is a good way to make a connection with other folks in the community. Your Ravelry friends might be people you know well from real life, or they may just be someone whose forum posts make you laugh or learn, or whose projects are so beautiful you don't want to miss them. There are many reasons to add someone to your friends, and some pretty cool features available to go along with friending someone on Ravelry.
You can add someone to your friends right on their profile page!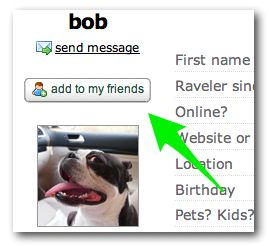 Once you've added them as a friend, you can find them in the friends section of your notebook.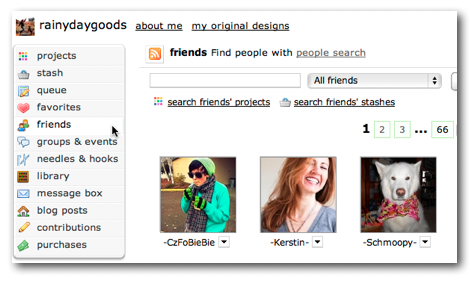 sets of friends!
If you have lots of Ravelry friends, the friends features can be made better by organizing them into different sets. These sets are confidential – only you will see them. You could create sets for local friends, people whose spinning you admire, people who look like they are the same shape as you (handy for seeing patterns they are working on that would look great on you, too!), and more.
Organize your friends into sets by clicking the "organize" tab in the friends section:

Or you can add an individual friend to a set from their profile page (by clicking the "add to friends" or "in my friends" button), or by clicking the little triangle right in your friends' section: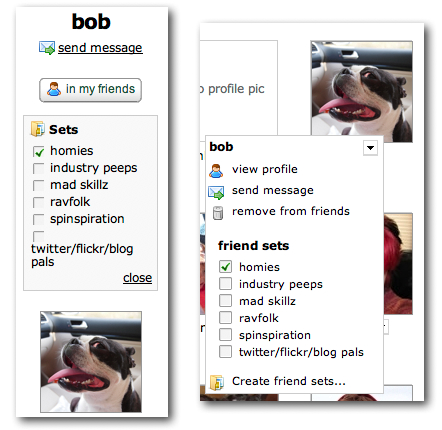 friends' activity
With your friends in sets, you can easily see what the groups are up to on Ravelry in the friends activity tab (also in your friends section). This is, hands down one of my favorite Ravelry features! On the friends' activity tab, you can see when Ravelers in your friends list have:
added project photos
stashed yarn
queued a pattern
added something to their Ravelry favorites
magic-linked a pattern, yarn or project in the forums
commented on patterns, yarns, projects, or stashed yarns
updated their handspun stash
Phew! Does all that sound overwhelming? Don't worry! You can filter the specific type of activity you'd like to see by clicking the "displayed activity" ticky boxes. Your choices will be remembered, so you don't have to re-filter every time. I like to keep my friend activity selections to the project photos, queueing, favoriting, and handspun filters.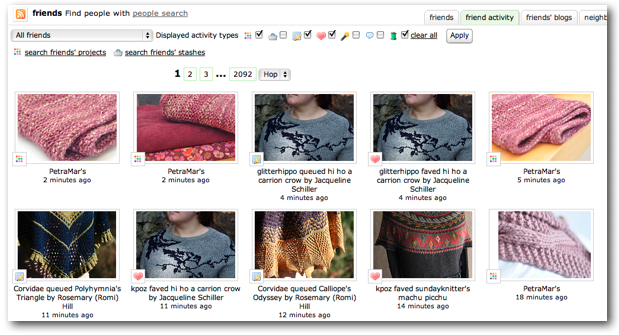 If you've organized your friends into sets, you can also select a set of friends from the drop-down menu so that you're only seeing the activity from among friends in that set.
You can also see a quick link to your friend activity on the People tab:
blog posts
If your Ravelry friends have connected their blogs to their Ravelry profiles, you can see when they update right on the aptly named friends' blogs tab. You'll see a short preview of the post, and you can even search those blog posts in case you are looking for something specific.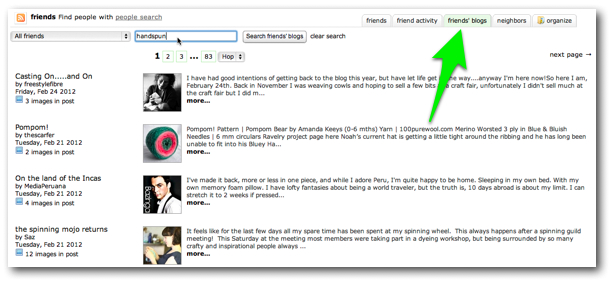 searching projects
In the projects search of the advanced search area, you can filter by just your friends' projects by clicking on "friends" in the "more search option" section of the filters. The pattern category filters are available in the projects search, too, so if you're looking for a new project – say, a shawl that calls for DK weight yarn that your friends have made and were very happy with, you can search for that! You can even filter further into your friend sets by clicking on the "friends" filter again.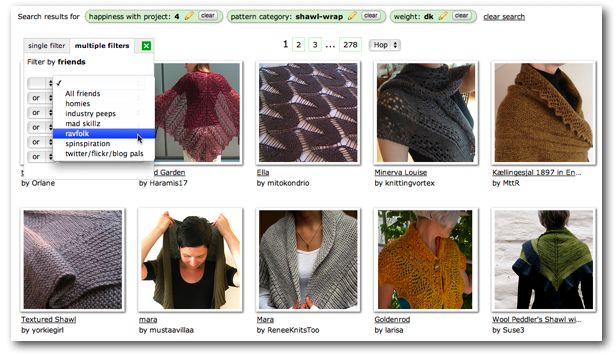 other places to find your friends
You can also filter by your friends on the projects tab of pattern pages (this can be especially handy if you have made a set for your friends with people who are your general size/shape/proportions!):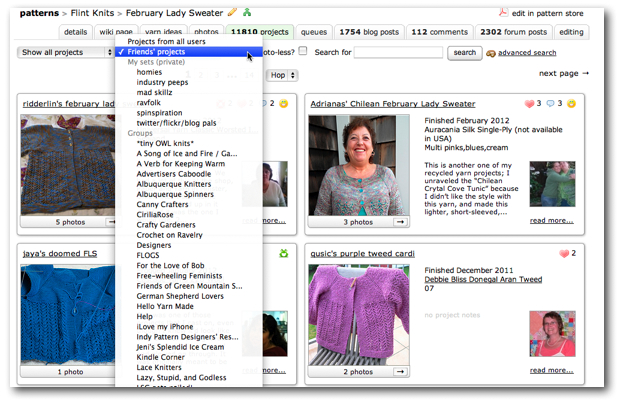 As well as the events section – here are some Ravelry friends who marked that they were attending Stitches West this weekend: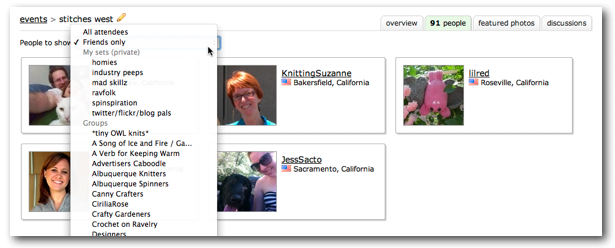 Adding people to Ravelry friends seems simple, but as you can see, it unlocks lots of fun features throughout Ravelry! If you are feeling shy about adding friends and would like to start somewhere, Jess, Casey, Sarah, and I are always happy to meet more wonderful Ravelry friends!