Casey and I are preparing to head over to the United Kingdom next week. It is our first time visiting the UK and we couldn't be more excited! We have a few fun events planned for our trip, both in England and Scotland and in between, but first up is Knit Nation, organized by Alice and Cookie, at Imperial College in London!
This awesome knitting and spinning expo starts on Thursday and ends with our Ravelry party on Saturday night. There are classes with amazing teachers, our talk on Ravelry on Friday, booksignings and a really incredible marketplace!
Our party should be tons of fun! We are borrowing Ysolda's photo booth and have lots of room to spread out knit, hang out and get a drink. It would not be possible if it weren't for our sponsors: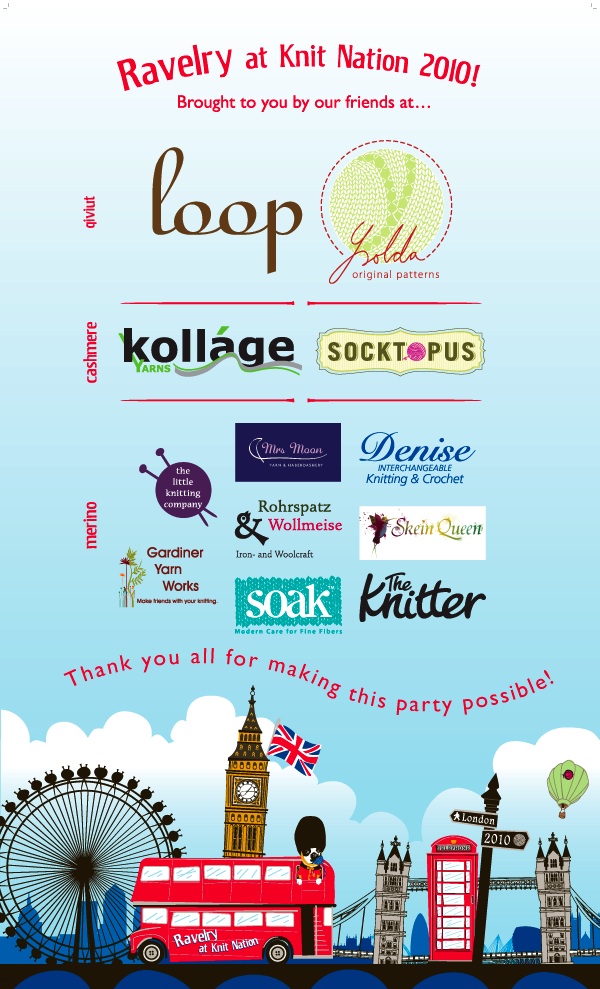 (Click on the logos to get more information about our sponsors!)
Please check out Knit Nation if you haven't already and are accessible to London- there are class spots still available and Marketplace tickets will be available online until tonight at midnight GMT. (They will also be available in person for £8.)
For party details and to RSVP, please go here. There are no tickets for our party, to make it welcoming to all, but RSVPing will help us get a head count.
You can also chat about all the fun happenings at Knit Nation in the KN group on Ravelry!