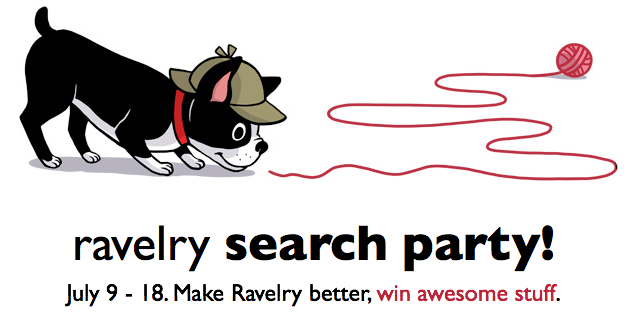 For a long time, we've been talking about improving the pattern information so that we can provide a better search and more ways to find patterns. We've been working hard on new categories and attributes, and we need you to help reclassifying patterns that are still missing information by using the Search Party Tool: http://www.ravelry.com/searchparty.
We know that going over the 166,000+ patterns in our database is going to take a lot of work, but we have some incredible donations from some fantastic companies to help reward your efforts! For every pattern you reclassify (that is not your own design), you will be entered for a chance to win one of the sweet prizes listed below. There are 17 amazing prizes with a total retail value of over $5,000, and each one is absolutely drool-worthy! Be sure to scroll down to check them all out – and a huge, huge thank you to our friends who so generously donated these wonderful prizes!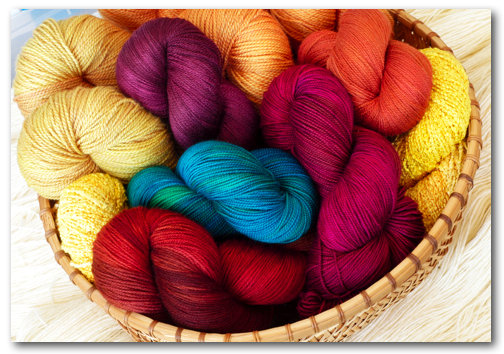 2 skeins of Superwash Sock in Tourmaline and Pomegranate (new for Fall)
1 skein of BFL Sock in Autumn Flame (also new for Fall)
2 skeins of Merino Silk Lace in Black Plum and Cayenne
2 skeins of Buttercrunch Silk in Saffron
5 skeins of Silk Crush in Goldmine and Marigold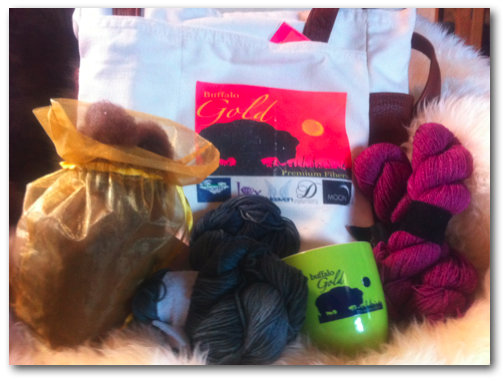 Buffalo Gold canvas/bison leather tote
2 skeins of Buffalo Gold Lux – Mountainberry colorway
2 skeins of Buffalo Gold Moon – Smoke colorway
100% Pure Bison Roving
Buffalo Gold collectors mug
Prize #3: WEBS!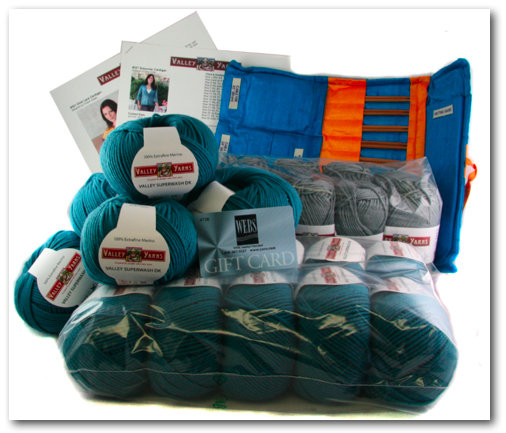 WEBS Bamboo Interchangeable Needle Set
Valley Yarns Pattern #327 Sojourner Cardigan
Valley Yarns Valley Superwash DK in Blue Mist – 15 balls to complete Sojourner Cardigan
Valley Yarns Pattern #301 Oriel Cardigan
Valley Yarns Greenfield in Grey – 10 balls to complete Oriel Cardigan
$50 WEBS Gift Card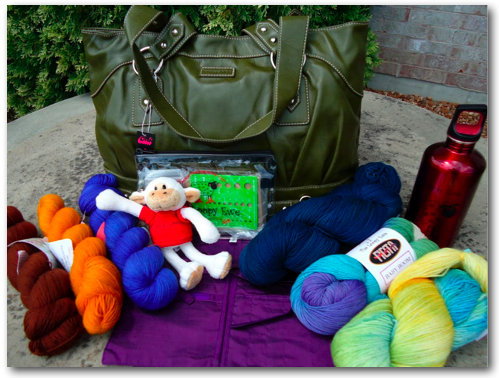 1 Namaste Newport Bag
3 skeins of Wollmeise Superwash
3 skeins of exclusive Sock Kit Club yarn
1 Della Q Travel Needle Case
1 Loopy Accessories Tote with knitting gadgets
1 Little Loopy Traveling Pal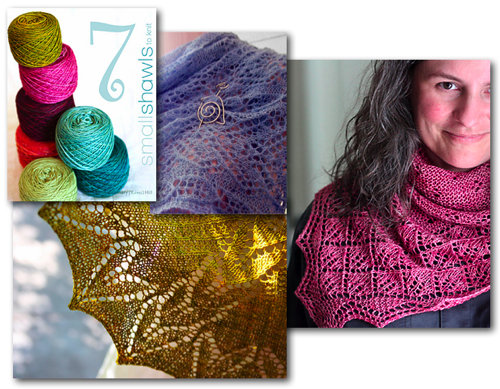 a 2011 membership to the Designs by Romi Pins and Lace Club, Romi's Choice option – includes 4 quarterly shipments of custom yarn, shawl pin and new shawl pattern
7 Small Shawls eBook subscription
3 skeins of sock yarn
Prize #6: Rowan!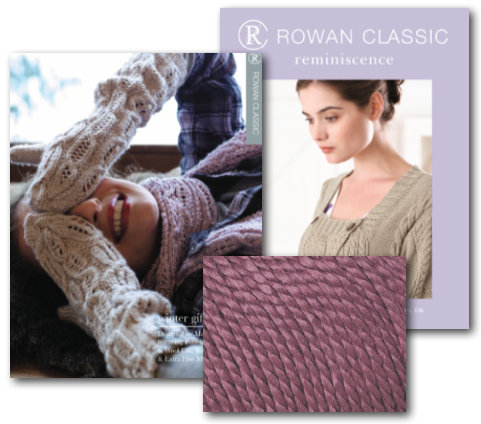 1 bag of Rowan Pure Silk DK in Damson
1 Rowan Classic Reminisence
1 copy Rowan Winter Gifts
1 Amy Butler bag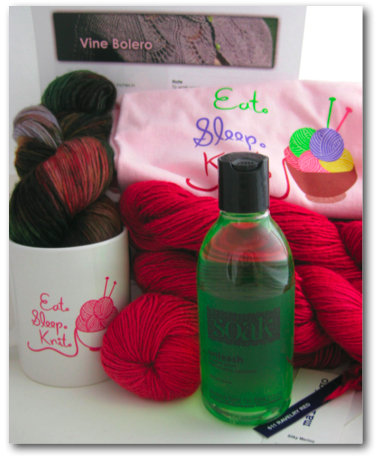 $200 eat.sleep.knit gift certificate
eat.sleep.knit T-shirt
Vine Bolero pattern
5 skeins Ravelry Red colorway of Malabrigo Silky Merino (enough to make the largest size of Vine Bolero)
eat.sleep.knit mug with scarf pattern on the back and a skein of our exclusive colorway of Malabrigo to make the scarf
1 12 oz bottle of the Ravelry Unleash scent of SOAK Wash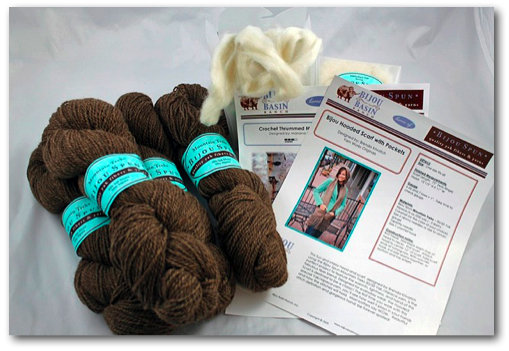 4 skeins of our Bijou Spun Mountain Treks 50% Pure Yak/50% Prime Alpaca
2 ounces of 100% pure yak roving – perfect for spinning or thrums
Finally, 2 Bijou Spun patterns designed specifically for Mountain Treks and Bijou Spun roving: thrummed mittens for your hands and a hooded scarf for your neck and head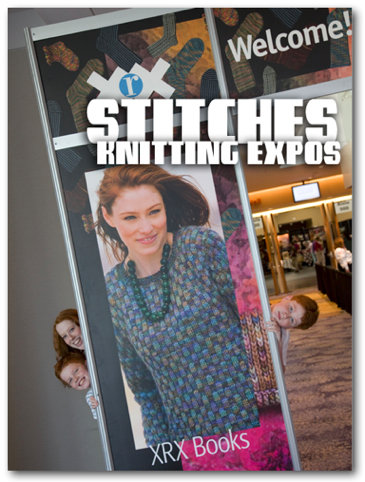 Winner's choice – either the "Works" package from STITCHES Knitting Expos, redeemable at any STITCHES Knitting Event in 2010 or 2011, and which includes:

Opening Day & Opening Day Lunch
21 class hours
Fashion Show & Fashion Show Dinner
The Student Banquet
…and of course access to the Market all weekend long!
Or, in the event that the winner would not be able to travel to a STITCHES Knitting Expo during this time, the winner's choice of $300 worth of XRX books!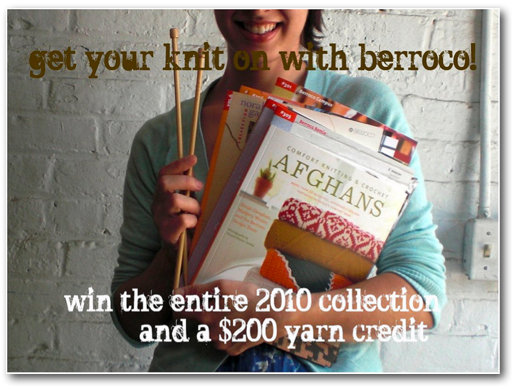 The entire 2010 Berroco Design collection, which includes:

Comfort Afghan Book
Norah Gaughan Men
Norah Gaughan Volumes 6 and 7
Spring/Summer 2010: Booklets #292, 293, 294, 296, 297
Fall/Winter 2010: Booklets #298, 299, 300, 301, 302, 303
Plus! A $200 (retail) Berroco yarn credit!
Prize #11: Louet!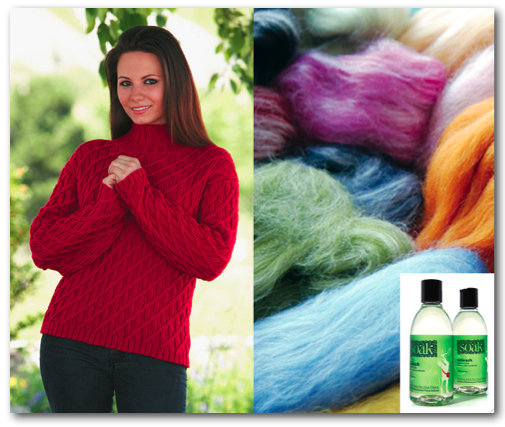 Yarn and pattern for our Gems Light Worsted "Ribs on Diagonal Pattern" (your choice of Gems Light Worsted color)
2 14 oz bottles of SOAK in the scent of your choice.
$150 of Louet North America Spinning Fiber of your choice of over 150 handspinning fibers to make whatever type of yarn or felted project you like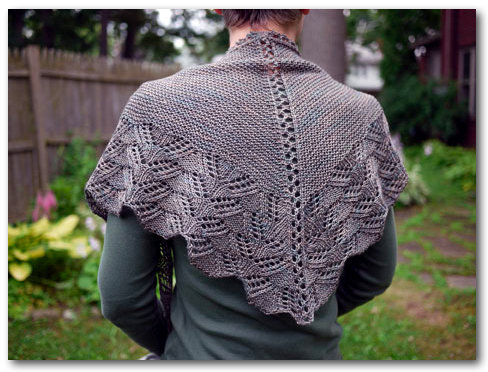 the les Abeilles shawlette sample, knit by Anne Hanson in Briar Rose sea pearl, which measures approximately 19 inches long x 50 inches across the top edge.
a $50 gift certificate to the knitspot pattern shop to be emailed to the recipient at time of award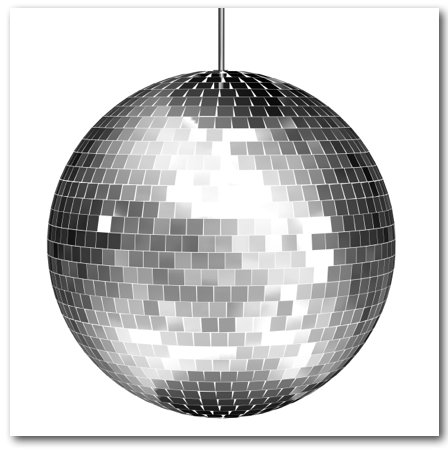 A Wollmeise Discoball! 15 skeins of either Wollmeise Twin (80merino/20pa) or Wollmeise 100% merino superwash, dyed especially for the winner in her choice of any of Wollmeise's colorways. Have them all dyed in the same colorway for a sweater or cardigan, or each skein dyed in a different colorway – it's the winner's party!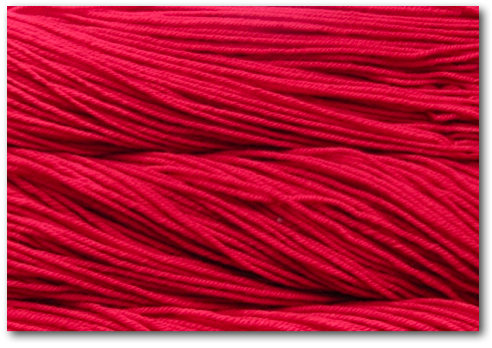 Two bags of Rios, the all new superwash worsted yarn from Malabrigo – one bag in the Ravelry Red colorway, and the other in a surprise colorway from Malabrigo. The winner will have the chance to try the new yarn before it is available in stores!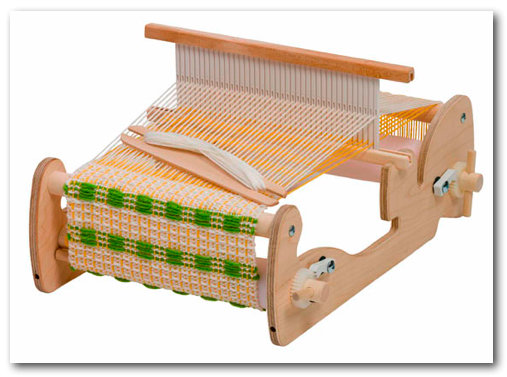 The total Get Started Weaving Kit and Caboodle:

a Schacht Cricket Loom with a full complement of reeds (5-, 10-, 12-dent)
a pick–up stick
a copy of Weaving Made Easy and Time to Weave.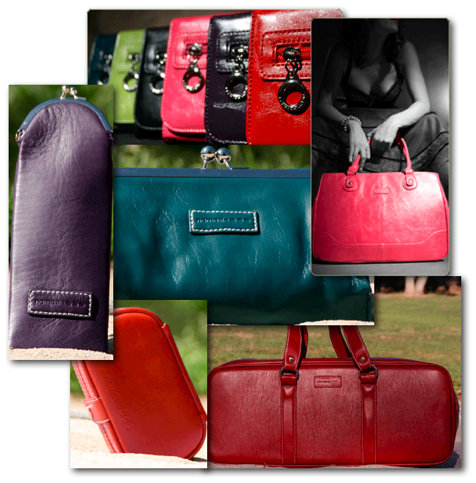 Monroe bag in Hollywood Pink
Wallet in Hollywood Pink
Mini Clutch in Peacock
15″ Cozy in Eggplant
8.5″ Mini Cozy in Eggplant
Buddy Case in Red
Binder – Red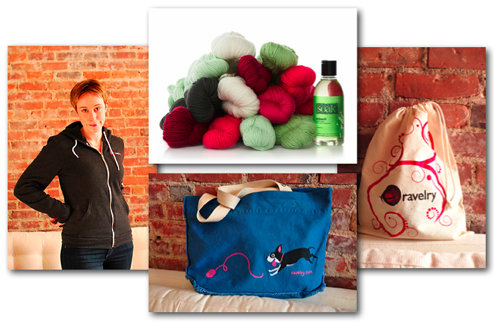 a Ravelry hoodie
winner's choice of large Ravelry tote bags from the minimart
winner's choice of small Ravelry project bags from the minimart
1 bag of Louet Gems Light Worsted Merino in your choice of any of the Ravelry colorways
1 bottle of Unleash Ravelry SOAK Wash
a sweet assortment of Ravelry buttons, stickers, and drinkware!
WOW, right?! We are so grateful to all the donating companies for giving such amazing prize packages for this! We can never get over the generosity of this industry and the people in it – thank you, thank you.
As with all big Ravelry updates, we're talking about this in For the Love of Ravelry – you can chat with us and other users in our thread for general discussions and chatter; if you need help choosing a category for a pattern, we're talking about that in this thread. We're going to be drawing the winners throughout the day on Monday, July 19 – the same day our brand new pattern search (that you are helping create!) is released on the site!
We hope you have fun with this huge reclassification project – we couldn't do it without you! Good luck – we're already looking forward to seeing who the lucky prizewinners are!