We've got lots of fun new goodies in the Ravelry minimart! We've been saving up a few new releases for a bigger-than-usual launch and we're so excited to share everything at last!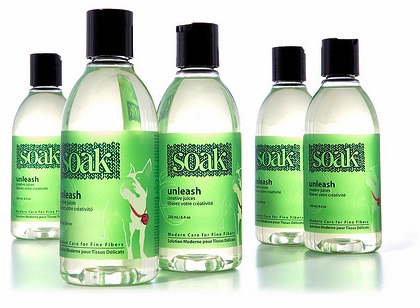 Our first new product is something a little different and really special: we're proud to announce our first collaborative goodie for the Ravelry minimart: Unleash, a Soak Wash inspired by all things Ravelry and featuring an adorable Bob label, is now an official part of the Soak Worthy Collection! The special limited edition scent is delicately sweet, fruity, and spicy – and will make all your pet projects smell fantastic. You can read a bit more about Soak Wash on their website, but we just have to add: it's really good stuff – the perfect way to finish off your handmade items.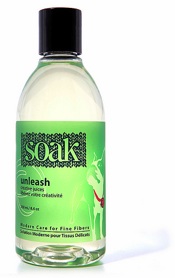 Unleash is is available in 250mL/ 8.4 oz bottles, exclusively through the Ravelry minimart. It has been so fun to develop this special fiber wash with Soak, another community-minded company in our industry. We think we're very lucky to be surrounded, on the site and off, with such fabulous people!
New bag! Bob chasing yarn tote bags!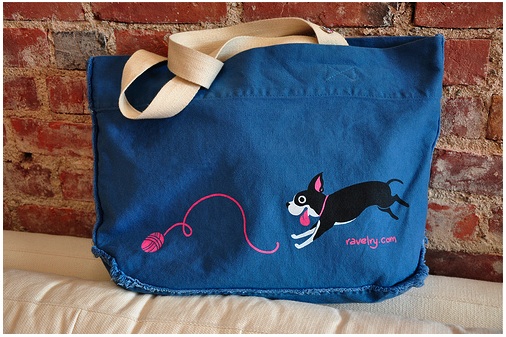 The newest limited edition Ravelry bag is our first big tote with Bob! The fabulous verabee designed this adorable print of a very happy Bob running after a bouncing ball of yarn. It's a 100% cotton, pigment-dyed tote bag, with contrasting color straps and a ragged edge at the bottom and a small interior pocket. It's roomy and soft – and pretty darn cute! Verabee developed this art for us some time ago, and we loved it so much we kept waiting and searched around for the perfect product to show it off. When Jess found these cute blue tote bags, we all knew right away that they would be perfect to show off the adorable print!
The Ravelry Swirl Sticker is the latest product in our Ravelry Swirls design, the fun, feminine art by Julie at Symposi.com. It's digitally printed on vinyl, resistant to wear and fading, and measures 3" x 4" (7.5cm by 10cm): a great size for your laptop!
Reduced prices on select shirts!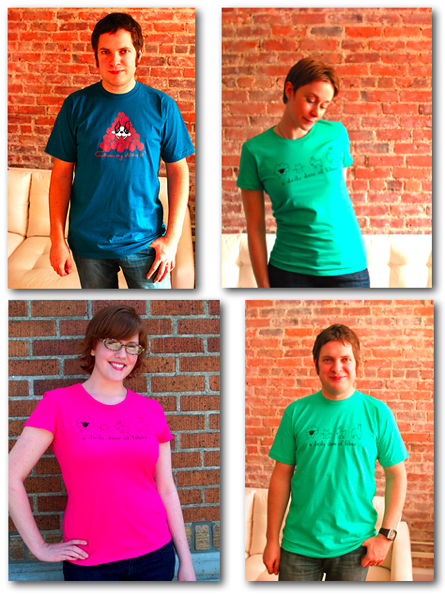 Along with all these new goodies, we're also reducing the price on some of our items! Our Pink Animals tee, Mint Animals tees in both women's and unisex styles, and our unisex Bob Yarn Pile shirts, have had their prices reduced for clearance! We're selling our remaining stock of the Pink Animals tee styles for $10.00 – that's 50% off the original price! Women's and unisex Mint tees and unisex Bob Yarn Pile shirts are now just $15.00.
We all wear and love these shirts, but we also like to switch up the designs in the Ravelry minimart pretty regularly! We're retiring these styles by the end of the year, so we thought we would offer them to you all at a reduced price and help to make room for more designs later on.
The Ravelry minimart is open to all!
By the way, did you know that you don't need a Ravelry account to purchase from the Ravelry minimart? :) You can just send the link to anyone who might be interested in getting you a present and they'll be able to surprise you. You can also add minimart items to your Amazon Universal Wish List, if you like! Proceeds from the minimart are an important part of keeping Ravelry going, and we're so glad that you all enjoy the t-shirts and other products we've developed! It's such a thrill to see Ravelry gear on your Ravatars in and person in our travels. Thank you!