We are really excited to announce a team effort that we have been working on with the creators of the upcoming Sock Summit event: Stephanie Pearl-McPhee, the Yarn Harlot, and Tina Newton of Blue Moon Fiber Arts. We've all watched Sock Summit grow from a sneak peek of an idea on Stephanie's blog to an incredible event bringing together inspiring sock-kniterati and thousands of excited yarn lovers (like us!) this summer in Portland for classes, community, and an amazing marketplace.
Here at Ravelry, we knew that we were going to Sock Summit, and we knew we wanted to have a meetup, but we also knew that the community spirit that was building around the event was going to be something really special, something that we would love to help bring to knitters and crocheters who weren't able to attend the event in person, if we could. So we wrote to Stephanie and Tina, and it turns out they had the perfect idea for a Sock Summit/Ravelry teamup in the works:

They had been thinking about a contest to provide a showcase for dyers connected with Sock Summit. Tina, a hand-dyer, wanted to create an opportunity for dyers to come forward and strut their stuff to the global community of knitters and crocheters who admire their work. As knitters and crocheters, we are inspired each day by the work of dyers, soaking in their color choices and often choosing our patterns and projects based upon what would work best with the techniques they choose. This contest and showcase offers dyers connected with Sock Summit to create a special sock yarn colourway that fits into one of the categories listed below and display their work in front of the global Ravelry community, and it gives Ravelers around the world the chance to participate in this amazing event by voting for their favorite colourway in each category. Together, we can all Dye for Glory.
How do you participate? The first step is for the dyers. After that, the rest of us get to play. :) First things first: here are the rules:

Any eligible dyer who wants to, be they a small kitchen enterprise or a big company, can generate a sock yarn colourway related to the Sock Summit and enter the contest.
To be eligible, a dyer/company must have their yarn for sale at the Summit. You are eligible if you have a booth there yourself, or if another company who has a booth is selling your yarn there.
You can call your colourway anything that suits you, but you may not use the words "Official," "Sock Summit", "Ravelry," or the full name of a teacher or organizer without their permission (That means that calling a yarn "Barbara Walkers best favourite yarn" is right out, unless by some miracle, Barbara Walker says that
is her best favourite, and gives you her express permission to write that on the label. We would advise you against hunting Barbara in the wild to get that endorsement. She's a tough cookie.)
Please don't put the Sock Summit or Ravelry logos on the label. The Sock Summit logo and the words "Sock Summit" are part of Sock Summit LLC, and are trademarked, as are the Ravelry logo, name, and "where my stitches at?" tagline trademarked to Ravelry, LLC.
Feel free to use the logos as inspiration for your colourway!
You may enter one colorway in each category if you like (but do keep in mind that this contest will hopefully create a lot of demand for it, so please be sure you don't dip too deep in the dyepots!) ;)
The colourway must have been specifically created for Sock Summit.
Play nice. We don't know exactly what we mean by that, but this is supposed to be fun, and you should be
having fun, and helping other people have fun.
What kind of sock yarn colourways can be submitted?
The Dye for Glory contest has the following categories:
Kettled: The entire dye process happens in the dyepot (kettle); all manipulation occurs with the whole skein in the pot with the dye.
Watercolors: Any hand-dye process that uses any group of colours diluted and mixed to create a watery fluid effect.
Random Stripes: Any skein that is hand-dyed to create stripes by nature of the placement of the dye on the skein, no matter how you get it there.
Predictable Stripes: Any hand-dye process that produces a skein designed to generate predictable, intentional stripes, by nature of long repeats of colour.
Pooler: Any hand-dyed process that creates a skein that pools colour in delightful intentional puddles while knitting. (We hate that these pretty yarns have a bad name.)
Mosaic: Any hand-dye process that results in a skein with multiple colours, all existing in small areas and resulting in short repeats, usually the result of the use of multiple techniques on one skein.
Painted: Yarn that's dyed outside of the dyepot, with the application of colour (using a brush, turkey baster, syringe, fingers…) to paint on the skein.
Dipped: Any skein that's coloured by dipping parts of the skein in dye.
Machined: Any yarn dyed by a mill, rather than a person.
Printed: Skeins that are printed by machine with dye to produce a regular, predictable pattern over the entire length of the skein. (Regia Jacquard Colours or Opal Hundertwasser are good examples.)
Primary: A hand-dye process that uses only primary colours (Red, blue, Yellow)
Tertiary: A dye process that uses (or results in) only tertiary (look it up) colours.
Shaded solid: Any hand dye process that results in a skein that is only one hue, and gets its variance from the rate of absorption, or the addition of black, not other colours.
Out of the box: This category is for any other process (Machined or hand-dyed) that we didn't think of. Yarn people are creative people. If the dye-process results in sock yarn, you're on. Go nuts!
Dyers, in your stash section here on Ravelry, you will see the following fancy new button on any yarn that is not in the database but that is added by you or belonging to you (if you are a yarnie):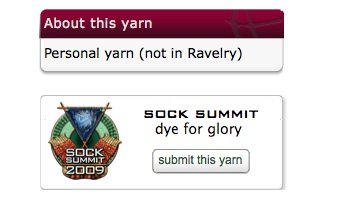 (This button is going to appear all over the place in Ravelry stashes, since we at Ravelry don't have the info about who is eligible according to the rules. We know that the button is shiny and new, but please don't click and submit your yarn if you aren't eligible to participate! That'll just make more work for Stephanie and Tina, who will be checking the booth information for all of the submissions.)
If your yarn will be sold at Sock Summit, when you are ready to submit your special colourway, you'll start there in the stash section – enter your yarn (with all the information you can completed and filled out first, including colorway name and the information about the Sock Summit booth in which your yarn will be sold in the notes).
Very important dates!
submissions for dyers will be open from now until July 22 (unfortunately we cannot make exceptions)
voting begins on July 23 and ends on August 3
shortly thereafter (in the following day or so), the results will be tallied and glory will be bestowed!
Have questions? We've started a thread about this in the Sock Summit Ravelry Group. Please use that thread to ask any questions you might have about this! We here at Ravelry will be monitoring the thread, as will the good folks from Sock Summit. Together, we'll be able to team up and respond to you quickly. (Please do not use the customer service emails of Ravelry or Blue Moon Fiber Arts, or Steph's email address, or comment on our blog posts if you need help – we really will help you faster if you post in that thread! Plus, it's likely that others will have the same questions you have and you'll be helping lots of other people by asking it there, which is totally appropriate and good for this community event.)
We'll have more details about the voting when we're closer to the date on which voting begins – July 23. Until then – dyers – dye for glory!